BiPOLAR ICEswim 2018 puts focus on bipolar disorder and the healing ice!
The project's purpose is to put the maximum focus on Bipolar Disorder, the way to the good recovery and that it is possible to do crazy, amazing things and set great goals as bipolar, and at the same time "be cool":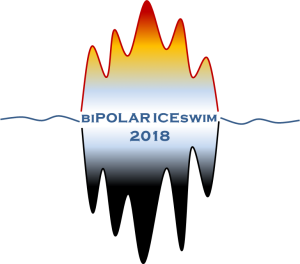 On World Bipolar Day 2018 I want to swim 906 meters among icebergs in Ilulissat Icefjord, Greenland only wearing a bathing suit, swim cap and goggles!
The hope is that the project can create awareness and media attention, so that I can reach the public. Some have a fear, have reservations or prejudices of mentally ill. Something that mostly comes from ignorance. I will give hope to those who fight, the newly diagnosed, who are deeply confused and show the way to the good life through recovery.
At the same time, attention must be paid to the challenges we face with the disease and, in general, what the disease involves:
The depressive episodes are NOT just a common "bad day" or "being sad" – and the hypomanics are NOT just "Ohh, how nice to see you've got your energy back", as I've heard many times. And you generally don´t have to be afraid of a person in mania. It is only in extreme cases a few can be dangerous – but a manic person can be quite exhausting for the relatives 🙂
The ignorance at one time neglects our symptoms and creates a lot of unnessecary fear and prejudice by blowing the fear out of proporsions in other areas.
Finally, I hope the project can put focus on what cold water can do for the psyche and the stress level in the body.  I will make researchers interested in looking into the effect. I have met several mentally ill who have been helped.
Do you want to support project biPOLAR ICEswim either practical or economical, so read more here.
Drone flight from Ilulissat Icefjord filmed by Rasmus Hagen-Pedersen
See you in the ice!